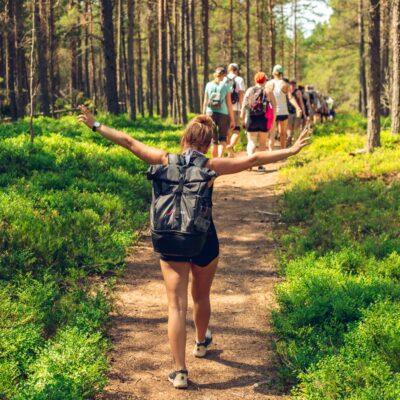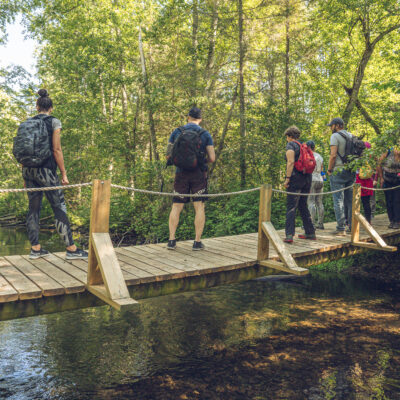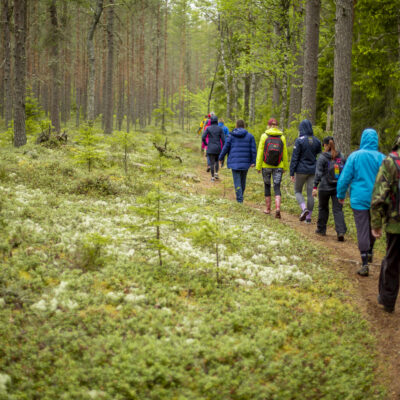 Real energy comes from nature! Enjoy a hike on the beautiful nature trails in Aegviidu, delicious food cooked on campfire and the great company of your colleagues, complemented by a special fireside performance.
Train ride Tallin-Aegviidu-Tallinn
A team meeting opportunity on the train (45 minutes)
2-hour thematic hike or 4-hour survival-themed hike in nature with a guide
Refreshments before the hike and a hearty hot meal afterwards on a State Forest Management Centre campfire site
Live music by the campfire
A bag of memorabilia with your company's logo for all participants
A photographer and a videographer to capture your party's hike
An up to three-minute aftermovie of the whole event
The total duration of the event is 6-9 hours (depending on the route selected)
– the final price depends on the weekday selected;
– a specific offer will be sent within two working days;
– the minimum pre-order time of the package is 14 days;
– the price excludes VAT;
– the package is adjusted in accordance with the COVID-19 restrictions applicable in the Republic of Estonia.
When did you last eat food prepared on a fire in a forest? Or take a walk in the woods to acquire exciting new knowledge? This is why we invite you and your party to experience nature and enjoy each other's company.
Take a midweek afternoon off with your team and dive into the great outdoors. This trip is special because it begins with a cheerful train ride together with your colleagues. The trip to Aegviidu takes an hour, so if you still need to discuss work matters, you can do it on the train. Upon entering the train, each participant will receive a bag of memorabilia featuring your company's logo, which contains things that may come in handy during the hike.
Your party can choose between a two-hour guided nature hike on a trail of exciting knowledge or a four-hour hike featuring tips on how to survive in the wilderness. In any case, the hike will be an exciting journey, during which you can enjoy the beauty of nature and gather new knowledge to benefit from in later life.
The journey ends on a campfire site where your party is treated to a delicious nature-inspired menu. We will make sure to keep your stomachs full and your thirst at bay.Nature is inspiring by design, and therefore the forest menu is influenced by everything that surrounds us and more.
The event is made complete by an artist playing live music by the fire.
WE TAKE CARE OF EVERYTHING
Soulteam makes sure to organise your event down to the smallest detail.
We will keep in touch with you prior to the event and talk you through the end-to-end solution, suitable performers and the menu. Then, we will make all preparations and will be there in Tuljak on the day of the event to make sure that the party runs without a hitch. After the event, we will wrap things up and perform all event-related follow-up activities.
Come and enjoy! We care about your peace of mind and ensure that you do not have to keep an eye on small details. You may not even have to be aware of them. We wish you and your party to have the best possible time and experiences. We will take care of everything without compromising quality.