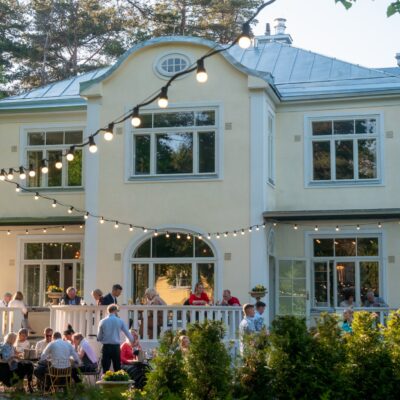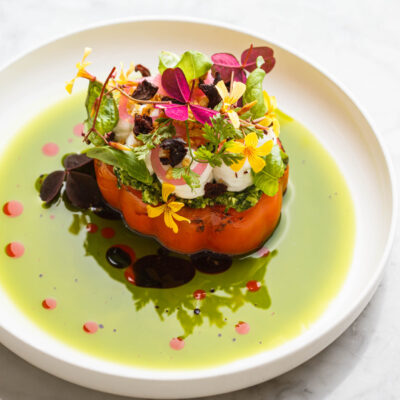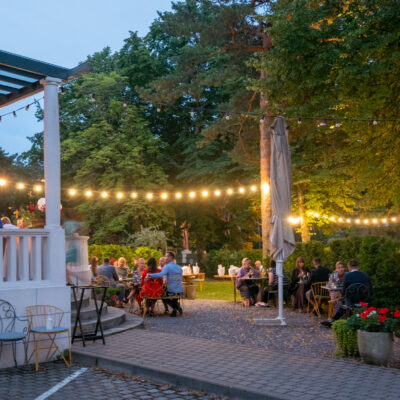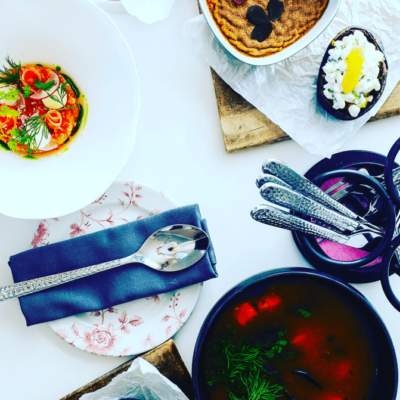 GARDEN PARTY IN PAJU VILLA
A garden party is not just a party … Each detail that creates the feeling that you have arrived at one is important. Great food, cosy atmosphere, lanterns and candles, garlands, refreshing cocktails, enjoyable music and the best conversation partners – Enjoy all of this and more at your company's event in Paju Villa.
Private use of Restaurant Paju Villa
Exquisite three-course menu by Paju Villa chefs
A welcome drink and alcoholic and alcohol-free drinks to accompany food
Seating at tables or standing tables
Food served at gala dinner-style tables or as a buffet
Live music for 2 × 30 minutes (e.g. Tanja and Mikk Saar, Mari Jürjens, Mick Pedaja)
A DJ to create the mood
One surprise guest to match the theme of the event
A host to tie the whole party together
A photographer
An up to three-minute aftermovie
A tent/marquee to protect you from both the sun and rain
Decorations depending on the theme
All of the necessary sound, lighting and video equipment
The duration of the event is five hours
Event preparation, on-site organisation and necessary follow-up activities by Soulteam
– the final price depends on the weekday selected;
– a specific offer will be sent within two working days;
– the minimum pre-order time of the package is 14 days;
– the price excludes VAT;
– the package is adjusted in accordance with the COVID-19 restrictions applicable in the Republic of Estonia.
Under the towering pines of Nõmme next to Vabaduse puiestee lies Paju Villa, which was built in 1930. Its expressive appearance and large green garden makes an impression on everyone who happens to pass by. Its yard is made for cosy garden parties with lightbulb chains, relaxing music and delicious food and drinks.
We have made sure that the garden party is not limited by the weather. We have set up a tent for your event in the yard, which offers shelter from the sun as well as rain.
The tent will house furniture for the comfort of your guests and the necessary sound and lighting equipment. Lightbulb chains, garlands, a thematic photo wall and special furniture suitable for a garden party are just a few examples of the decorations used.
A PROGRAMME THAT SPEAKS TO YOU
To accompany your garden party, we offer beautiful, bright acoustic music that helps the time to pass at a calm and enjoyable pace. The whole event is tied together by a host and a DJ playing music to suit the mood. You can choose a suitable solution from our range of artists offered.
The evening is spiced up by a surprise guest – who knows, perhaps there will be a mysterious magic show, an energetic dance performance, a stand-up show to tickle your funny bone or another performance that speaks to your guests and makes the night more special. Our selection includes many performances from which you can choose the best match for your needs and tastes.
Our photographer and videographer will also have an important role to play in the evening – their task is to capture everything that will serve as a reminder of this fun event for many days to come.
WE TAKE CARE OF EVERYTHING
Soulteam makes sure to organise your event down to the smallest detail.
We will keep in touch with you prior to the event and talk you through the end-to-end solution, suitable performers and the menu. Then, we will make all preparations and will be there in Tuljak on the day of the event to make sure that the party runs without a hitch. After the event, we will wrap things up and perform all event-related follow-up activities.
Come and enjoy! We care about your peace of mind and ensure that you do not have to keep an eye on small details. You may not even have to be aware of them. We wish you and your party to have the best possible time and experiences. We will take care of everything without compromising quality.