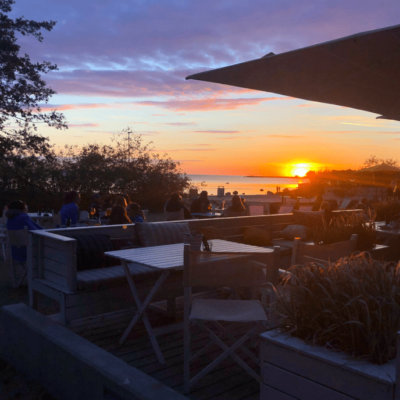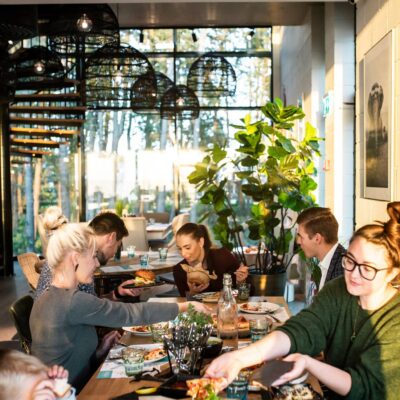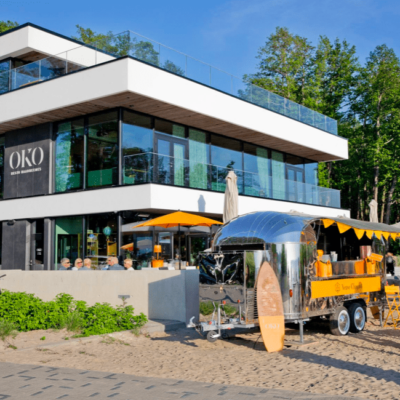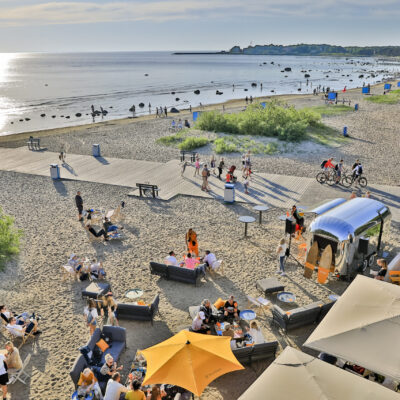 An uplifting summertime cocktail party for your party with delectable food, good music and a breathtaking view of the sea. Just come and enjoy!
2nd and 3rd floor of Restaurant OKO
An excellent Italian-inspired menu by OKO chefs
A welcome drink and alcoholic and alcohol-free drinks to accompany food
Seating in tables and standing tables
An atmosphere and decorations fitting for a cocktail party
Food served as a buffet
A flair bartender and delicious cocktails
2 × 30 minutes of live music (e.g. NÖEP, Sofia Rubina)
One surprise performance to match the theme of the evening
A host to keep the whole event together
A photographer
An up to three-minute aftermovie
All of the necessary sound, lighting and video equipment
The duration of the event is five hours
– the final price depends on the weekday selected;
– a specific offer will be sent within two working days;
– the minimum pre-order time of the package is 14 days;
– the price excludes VAT;
– the package is adjusted in accordance with the COVID-19 restrictions applicable in the Republic of Estonia.
A seaside cocktail party with a hot sun and a nice cool breeze is something that everyone wants to experience at least once in their lives. This is exactly what we wish to offer to you and your guests. Restaurant OKO in Haabneeme is an exclusive place to have lunch and dinner, which offers Italian-inspired cuisine and breathtaking views of the sea. It is the best place to host a great cocktail party.
Your group will have use of the 2nd and 3rd floor of Restaurant OKO, which also features a terrace in summer that fits around 50 guests.
Characteristically of a cocktail party, we have decorated the rooms and the terrace according to the theme and the whole furniture layout fits into the atmosphere of the restaurant like a glove.
A PROGRAMME THAT SPEAKS TO YOU
A cocktail party is about interacting in a relaxed, unrestrained atmosphere and enjoying the evening to the fullest… We will brighten up your event with live music that gets you in the mood without being too intrusive. We will also provide you with a DJ for the evening who knows how to work the crowd without being too pushy. Additionally, the event will feature a surprise guest (e.g. a drum show, a magician), who will treat you to a spectacle and add a touch of excitement to the evening.
At the bar, a flair bartender will mix the best cocktails in town and share tips on how to make a drink particularly delicious. All of this will make you feel as if you have arrived at the best lounge in the city and have everything you will ever need in one place.
The event will take place under the watchful eye of a host, who will greet the guests, share information on what to expect, guide guests where needed and introduce the performers. Our photographer and videographer will capture everything worthy of recording at your event to prepare a fun picture gallery and a captivating aftermovie.
WE TAKE CARE OF EVERYTHING
Soulteam makes sure to organise your event down to the smallest detail.
We will keep in touch with you prior to the event and talk you through the end-to-end solution, suitable performers and the menu. Then, we will make all preparations and will be there in Tuljak on the day of the event to make sure that the party runs without a hitch. After the event, we will wrap things up and perform all event-related follow-up activities.
Come and enjoy! We care about your peace of mind and ensure that you do not have to keep an eye on small details. You may not even have to be aware of them. We wish you and your party to have the best possible time and experiences. We will take care of everything without compromising quality.